10 Year Anniversary Gunging
Messyworld.net has been alive for 10 years. For a large part of the past decade, one model in particular has been a big part of the site. After 10 years of hosting, some of Michaela's most gunged victims get their own back in the biggest ever birthday sploshing! The Gunge Tank, Custard Pies, Gunge Blasters, Buckets of Slime & The Human Carwash await Michaela in what is the biggest gunging Messyworld has ever done!
◘ View Gallery • ► Watch Video
10 Years of Messyworld Videos
This is everything we've ever done! Well, all that which is no longer featured prominantly on the site. 10 Years of Messyworld in 100 minutes. This is a compliation of (almost) every video Messyworld has ever produced between New Years Day 2008 and the end of 2015 when the site was changed dramatically to what we see today!
Lisa & Louise discuss their experiences at
Messyworld over the years!
Messyworld's new hosts Lisa & Louise discuss their experiences over the years at Messyworld.net! Plus, Lisa finds The Gunge Tank and decides to have a go herself to celebrate the 10 year anniversary.
SlimeShopper in Play:
As part of the various celebrations, Messyworld has teamed up with theatrical gunge & messy FX retailer, MessySupplies, to produce a very messy, limited edition board game called SlimeShopper.
Watch Debbie & Crystal play potentially the messiest board game ever made...
The SlimeShopper™ Full Board Game is available now on MessySupplies.com
Miss Michaela's 10 Year Q&A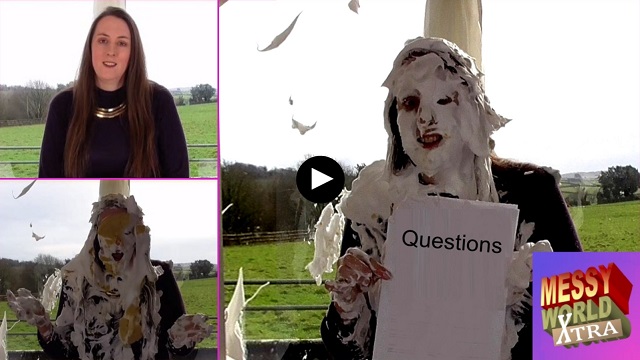 Messyworld host, Michaela Anderson, answers your questions in this one-off anniversary Q&A special.
Messyworld officially began on 1st January 2008 at 17:45